GUC's Quality mission is to provide customer the advanced technology product with high quality and sincere service. This service is to provide an excellent Quality & Reliability system to ensure the products we deliver are in world-class quality level. The service also offers the proven and well defined one stop shopping reliability assurance and qualification test services, including component level and board level qualifications according to JESD, EIAJ, MIL-STD and IPC standards.
L1: ESD/EOS/ Latch Up/ HTOL/ ELFR/ MSL/ TCT/ HAST/ HTSL/ LTSL/ PCT/ THB, etc.
L2: TCT/ Drop/ Shock/ Bend test, etc.
ORM: On-going Reliability Monitoring (Monthly or Quarterly)
Quality & Reliability Assurance
New product quality control starts from BOM selection then followed by product qualification according to the standards. Product is verified by PVT and system correlation then determined production screen condition for quality.
Manufacturing quality control by product yield and regular reliability monitoring.
Qualification
RoHS, Hazardous Substance Control
JEDEC, EIAJ, AEC, MIL STD Standards
Product Qualification
MTTF and FIT Estimation through Reliability Model
Verification & Screening
PVT Characterization
ATE vs. System Correlation
Stress Testing (Voltage/Temperature)
Low PPM Program
Automotive Program *
Production
Readiness
Quality & Reliability Control
Manufacturing Data Monitor
Assembly & Test Yield Management
Test Yield/Bin Maverick Control
ELFR for Initial Production Lots *
On-going Reliability Monitor (ORM) *
Production & Supplier Management
Quality Measurement and QBR
Change Control
Nonconforming Material Control (MRB)
100% Chips Visual Scanning
Continuous Improvement Program
*Optional
GUC Suppliers' Quality System Certificates
GUC passed ISO9001 in 2008 for general quality management and IEC/QC080000 for Hazardous substance management.
All manufacturing service vendors passed ISO9001 Advanced Quality System Certificates.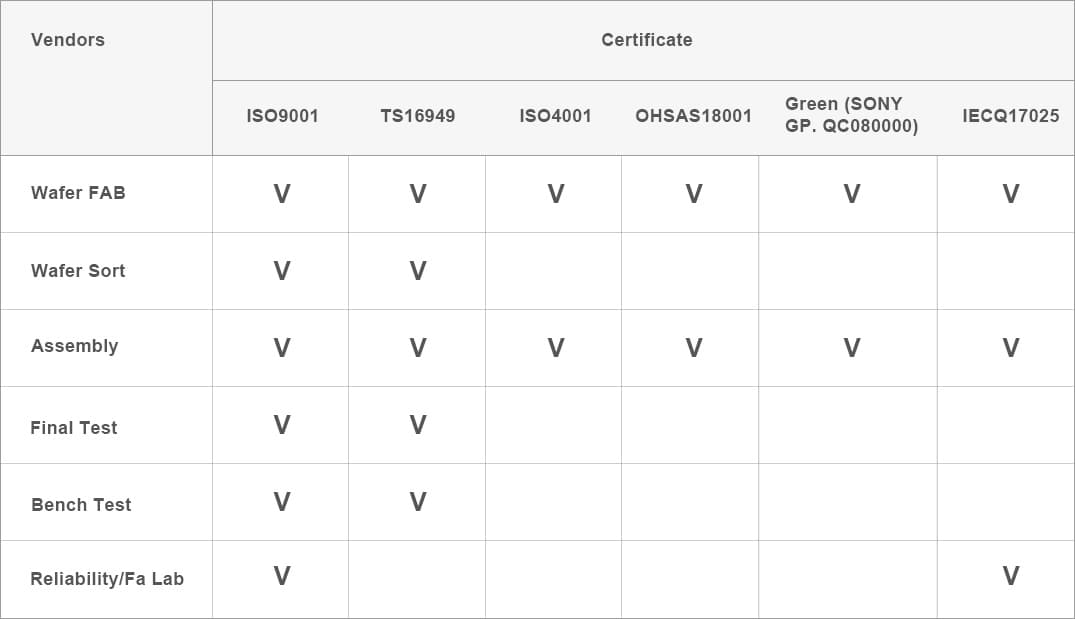 Note:
ISO9001: General Quality Management Certification
ISO/TS16949: Quality Management Certification for Automotive parts
ISO14001: Environment Management Certification
OHSAS18001: Occupational Health and Safety Management Certification
Green/QC08000: Hazardous Substance Process Management Certification
Green/SONY GP: SONY Green Partner Certification
IECQ17025: Independent Testing Laboratory Certification