Company Profile
GLOBAL UNICHIP CORP. (GUC) is a market leader in advanced ASIC (application-specific integrated circuit) services. Our comprehensive design services include 'spec-in' and SoC (System-on-Chip) integration, physical implementation, advanced packaging technologies, turn-key manufacturing, as well as cutting-edge technologies such as world-class HBM (high-bandwidth memory) and die-to-die interconnect IPs.
GUC leads the ASIC service market in the AI (artificial intelligence), HPC (high-performance computing), 5G/networking, SSD (solid-state drive), and several other industrial segments. We are committed to expertly delivering to our customers the most competitive PPA (power, performance, and area) designs, promising quality and yield. We dedicate ourselves to differentiating our ASIC products in the highly competitive market through engineering excellence.
Taiwan Semiconductor Manufacturing Co. (TSMC) is our single largest shareholder who holds 35% of the company's total shares. TSMC is also GUC's sole foundry supplier as well as the closest partner in advanced process and packaging technologies. Relying on the close relationship with TSMC, GUC is able to conquer various design to manufacturing challenges in order to create excellence in everything we produce.
Based in Hsinchu, Taiwan, GUC has a global reputation with presence in North America, Mainland China, Europe, Korea, and Japan. GUC is publicly listed on the Taiwan Stock Exchange (TWSE) under the ticker number "3443".
GUC Core Strengths
At GUC, customers are our most important focus and they are fundamental to everything we do. With a comprehensive suite of advanced application-specific integrated circuit (ASIC) services, we are dedicated to helping customers achieve their goals and overcome challenges.
At GUC, we are united in the strengths below.
We are committed to our customers' success.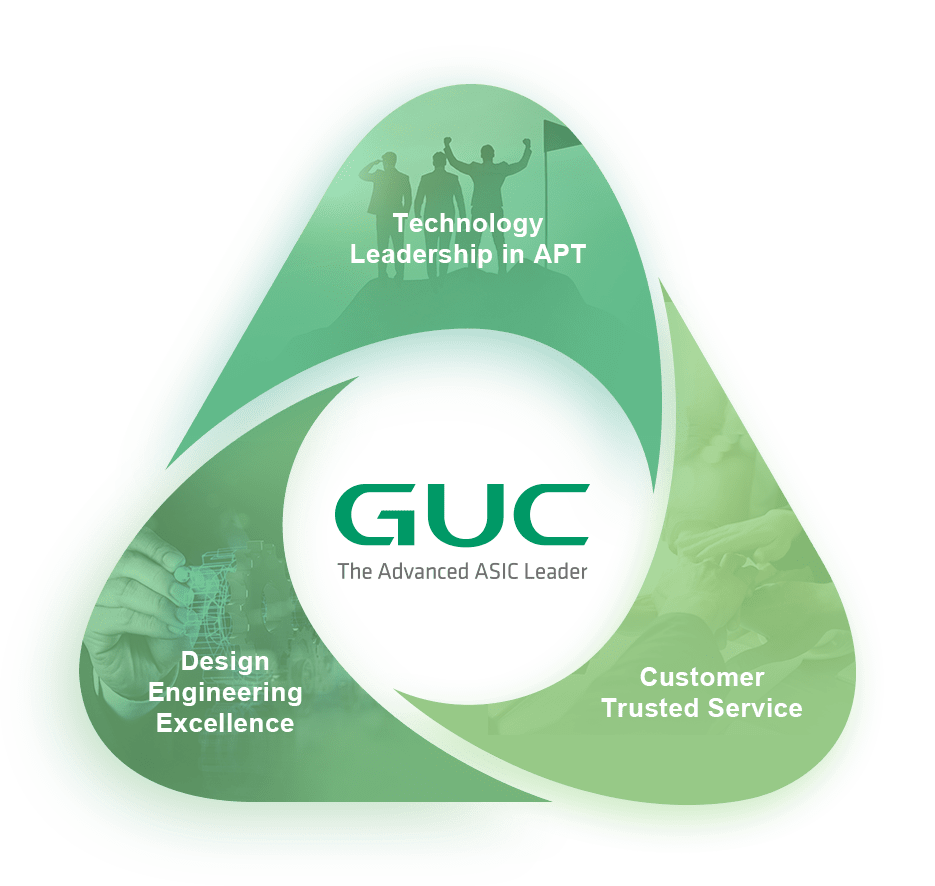 Technology Leadership in APT
GUC continues to maintain an innovation momentum that keeps pace with market trends. We focus on the research and development of advanced packaging technologies including chip-on-wafer-on-substrate (CoWoS), integrated fan-out (InFO) and 3D system on integrated chip (SoIC). To service the one-stop shopping needs of our customers, we also provide high bandwidth memory (HBM) and die-to-die (D2D) IP interconnection solutions that lead the market, packing more power and performance into the same space.
Design Engineering Excellence
GUC provides professional design engineering solutions for SoC platforms, IP integration, front-end/back-end design, packaging, testing and system verification. Our turnkey service models including spec-in, RTL-in, GDSII-in and KGD-in all the way to the finished product. Our collaboration with TSMC in the mass production stage provides our customers with early access to the most cutting-edge process nodes.
Customer-Trusted Service
Integrity and commitment are the foundation of our company. We aim to build long-term relationships with our customers and we believe that providing professional ASIC services that they trust is the key driving force for GUC's sustainable development. We are committed to ensuring the success of our customers and will never compete with them, because their success is our success.