GUC's corporate governance principles are strong self-discipline, an important role for directors, safeguarding shareholder benefit, information transparency, and attention to environmental and social impact to ensure sustainable operations. Under these principles, in 2020, we voluntarily designated a head of corporate governance to assist the Board of Directors. In addition, the Board of Directors authorizes the Audit and Remuneration committees to assist it in their respective supervisory duties. The Articles of Association of each committee are approved by the Board of Directors, and the Chairs of each committee regularly report their discussions and resolutions to the Board.
GUC has been ranked in the top 5% of the Taiwan Stock Exchange for corporate governance for seven years in a row, showing that we perform well in protecting shareholder benefit and equal treatment of shareholders, structure and operation of the board of directors, information transparency, and CSR implementation.
Taiwan Stock Exchange Corporate Governance Evaluation Top 5%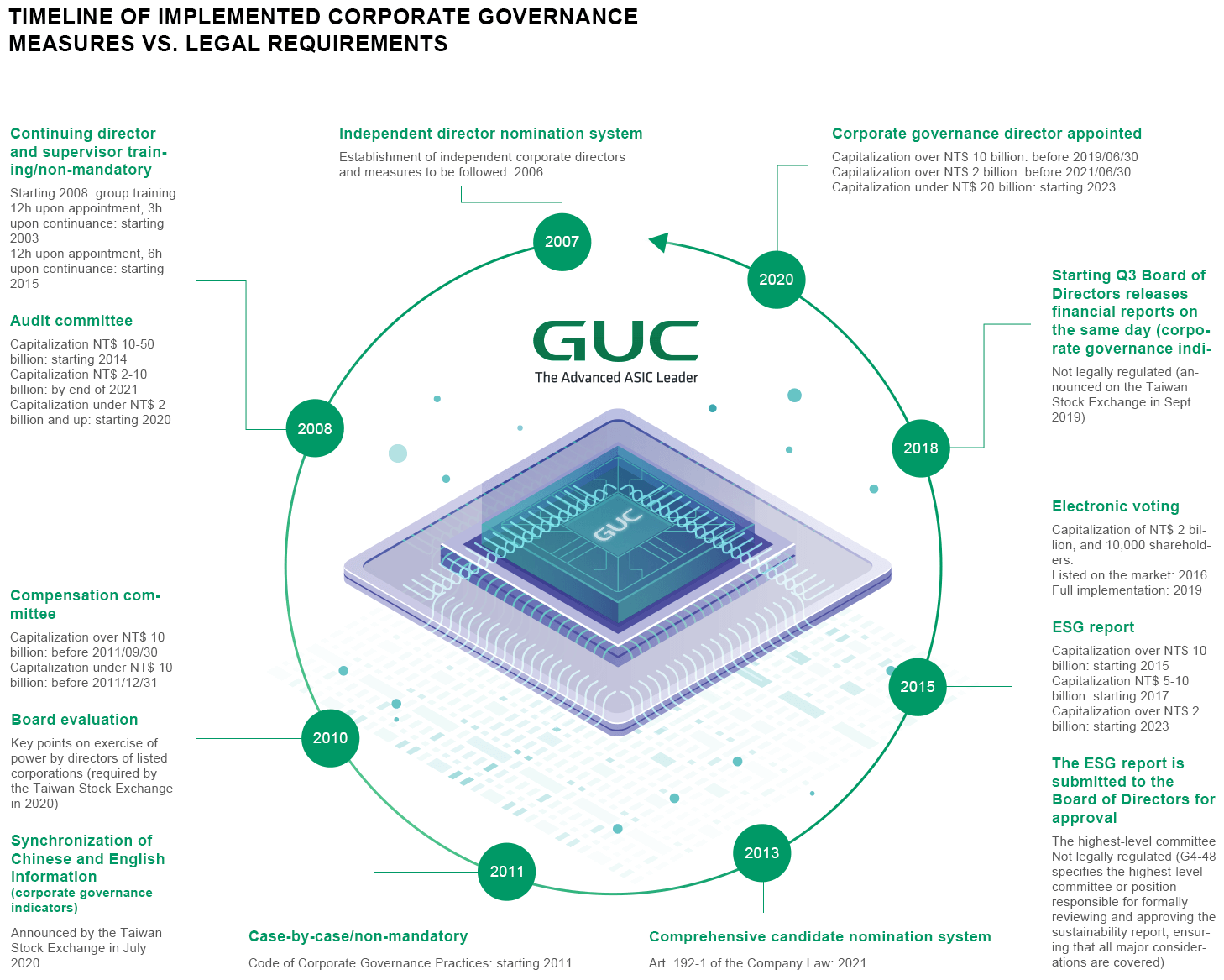 Click to enlarge the picture.
A dedicated corporate governance unit
On 07/30/2020, the Board of Directors appointed Mr. Daniel Chien, Senior Vice President and CFO, as Head of Corporate Governance. The corporate governance group is composed of seven people from the finance department, legal affairs, internal audit, and human resources, and is responsible for matters related to corporate governance such as providing information the directors need to complete their work, assisting them with compliance, legal matters related to the meetings of the board and shareholder meetings, company registration and registration changes, board and shareholder meeting minutes, and functions related to the Board of Directors, protecting the benefits of shareholders and ensuring their equal treatment.
Dedicated integrity management unit
GUC follows laws and business standards, and strives to uphold the highest standards of openness, integrity, and accountability, actively implement its social responsibilities and ethics, and uphold integrity, helping expand the business. GUC hereby formulates the Integrity Operating Procedures and Ethical Practice Code, and Appeal and Inspection Procedure. It has also set up confidential channels for stakeholders including customers, shareholders, the government, the public, researchers, suppliers, employees, and other business partners to complain or report circumstances violating the law (such as fraud), dishonest behavior (such as corruption or bribery), or actual or potential violations of the law or company policy.
Complaint and prosecution procedures are evolving with the times. In order to implement the GUC grievance and whistleblowing system, and to ensure smooth internal and external complaint and whistleblower channels, an ombudsman has been set up to protect the rights and interests of employees, promote compliance, and manage integrity.
The ombudsman is managed by a rotating chair position, held by a manager at the vice president level or above. It reports to the Operation Committee (OC) on the veracity of complaints or reports, and makes recommendations. Cases involving senior executives are reported to the Audit Committee for investigation, and to the Board of Directors for decision.
The Human Resource Division revises, implements, interprets, and advises upon the Integrity Operating Procedures and Ethical Practice Code for the dedicated unit, registers and files the notification, and completes other relevant work and supervision. At the same time, each unit manages integrity and prevents unethical behavior according to its respective work scope, jointly ensuring the implementation of the Code. Each year, the Human Resource Division reports the implementation results of the previous year to the Board of Directors.
Complaint Channel specified in Operating Procedures for Ethical Management & Business Code of Ethics
2021
2020
2019
Independent Director's Mailbox (Audit Committee)
0
1
1
Reporting System for Business Ethics Violation
Employees' Major Complaints/Whistleblowing Cases (non-categorized)
2(Note 1)
2
0
Sexual Harassment
0
0
1
Wrongful Harm Complaint
0
0
0
Procedures for Confidential Information Protection/Control
0
0
0
Cases confirmed after investigation
2(Note 2)
2
1
Note 1: There were two cases not being lodged through formal complaint channels that filed complaints against the same employee for the same conduct/incident. These two cases were not counted as they were not categorized as major violations of ethical management or business code of ethics.
Note 2: Two Employees' Major Complaints were received: One was about an employee who lent the employee ID to others for meal payment. A verbal warning had been issued to the employee, and internal awareness-raising promotion about employee ID usage and principles had been conducted. The other case involved violation of Control Procedures for Confidential Information, workplace wrongful harm, and performance appraisal disputes. The results of investigations completed by the Company's Ombudsman managerial officer and implementation unit indicated that it did not constitute a violation of Control Procedures for Confidential Information and the workplace wrongful harm. As for the performance appraisal issue, appropriate adjustments had been made based on Audit Committee's discussion and the Board's resolution.
The Integrity Operating Procedures and Ethical Practice Code specifies matters to be noted during business and strictly prohibits employees from using undisclosed information they know for insider trading, or from disclosing it to others who might do so. For business activities with high risks of dishonest behavior, providing or receiving illegitimate benefits, facilitation payments or disposal, and political contributions are prohibited. At the same time, all suppliers are required to sign the GUC Third Party Ethical Practice Code Commitment Letter.
In order to ensure that all company staff can abide by this standard, GUC organizes related education for managers and all employees at least once a year, and training for new hires. In August 2021, we organized education and training on integrity management for managers and all employees. The course included major confidential information protection, integrity management procedures, ethical practices, prohibition of insider trading, and responsible partner conduct. 773 people attended and passed online courses such as the Code of Conduct, for a total of 372.7 learning hours. The course files are also placed on an internal education and training platform for reference by colleagues. In addition, in 2021, GUC directors also provided an online course on professional ethics, including relevant regulations on insider trading; 9 people attended and passed. GUC also has a reporting system area for violations of professional ethics, for use by employees and outside personnel to guide compliance and maintain company discipline and shareholder benefit.